Dr. Hartmut Quehl, Directer of the Felsberg Institute for Education and Academic Research e.V. (FI)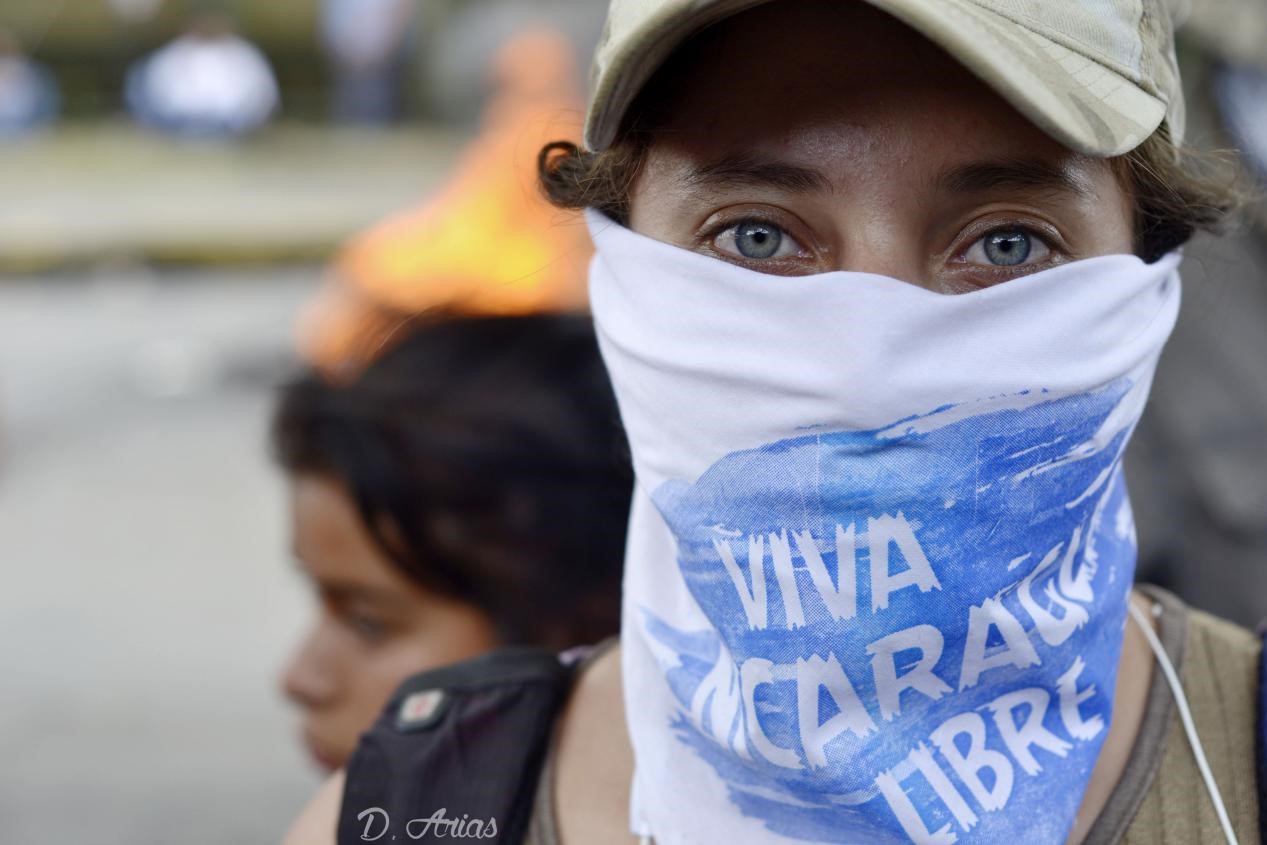 The head of the FI, Dr. Hartmut Quehl, was on a visit to Nicaragua at the invitation of our partner institution, the Martin Luther King Institute (MLK) at the Universidad Politecnica (UPOLI) in Managua from the 16th to the 23rd of April 2018. During these 8 days, Nicaragua was shaken by heavy violent protests.
The trigger for the initially peaceful demonstrations was the Social Security Reform (INSS) announced by President Daniel Ortega on 16 April 2018, which foresaw major cuts in the state social security system. However, these protests against the reform of the INSS are to be understood against the background of growing dissatisfaction with the politics of the government and in particular with the dynasty of the presidential couple, Daniel Ortega and his wife Rosario Murillo as vice-president. In recent years, resistance to the Nicaraguan Canal Project - which was planning a second Pacific-Nicaraguan shipping lane parallel to the Panama Canal - has strengthened civil society opposition in Nicaragua.
In the previous week, several fires had arisen in the huge nature reserve of Indio Maíz on the border with Costa Rica, which destroyed large parts of the protected area. A protest movement started here already, which assumed arson on government order as the cause of the ecological catastrophe with the aim of opening up the protected area for construction and infrastructure projects.
The protest is an expression of a self-organised social movement, the "autoconvocados", which has no political affiliation. Not only is it against the promulgated reforms of the social security system, it has also been linked to resistance to corruption and the state destruction of ecosystems. In addition, the protest is aimed at political change: the goal is the abdication of the presidential couple. The protests are also directed against the ruling party FSLN (Frente Sandinista de Liberacion Nacional).
As of 20 April 2018, UPOLI, where the Martin Luther King Institute is located, became the centre of student and civil resistance. Students, lecturers and civilian demonstrators held UPOLI against the government forces, which consist of the Policia Nacional, the "Antimotines" and the "Turbas Ortuegistas" and the "Juventud Sandinista". The peaceful protest was violently quashed at the UPOLI, as at the other major universities in Managua. There was comprehensive censorship and there were massive restrictions on press freedom, which could be circumvented by the protest movement through communication via social media.
From 23 April 2018, the wave of violence slowly ebbed away. By that time, there were probably 60 deaths (several at UPOLI). Altogether, about 90 injured persons were registered on 21/04/2018 and about 90-100 "Desaparecidos", i.e. disappeared persons, whose whereabouts are unknown. They are either imprisoned or have been killed. The actual number of casualties cannot be determined, as the number 90 refers only to the cases registered with the Red Cross. The current number of "desaparecidos", detainees and injured people is still undetermined.
Here follows an eyewitness account by Dr. Hartmut Quehl, covering the days 18 - 22 April 2018. All photos without references are by Dr. Hartmut Quehl, photos by David Arias are provided with signature on the image, photos of other participants of the protests were marked as anonymous sources. Caricatures and photos from the two Nicaraguan newspapers "El Nuevo Diario" and "La Prensa" were also used.
Diario visita a Nicaragua 16 al 23 de abril de 2018
Dr. Hartmut Quehl, Director del "Felsberger Institut für Bildung ud Wissenschaft e.V. (FI)"
Del 16 al 23 de abril de 2018 el director del FI, Dr. Hartmut Quehl, realizó una visita a Nicaragua por invitación de nuestra institución cooperante allá, el Instituto Martin Luther King (MLK) en la Universidad Politécnica (UPOLI) de Managua. Durante esos 8 días Nicaragua se vio estremecida por protestas fuertes y violentas.
La causa desencadenante de las manifestaciones inicialmente pacíficas fue la reforma al seguro social (INSS) que el 16 de abril anunció el presidente de Estado, Daniel Ortega, y que representaba recortes masivos al sistema público de seguridad social. No obstante, las protestas iniciadas ese día en contra de la reforma de la INSS deben entenderse dentro un contexto de creciente insatisfacción con la política de estado y, especialmente, con la dinastía de la pareja presidencial de Daniel Ortega y su esposa Rosario Murillo como vicepresidente. En los últimos años, la resistencia contra el proyecto del canal de Nicaragua –el cual estaba contemplado como segunda vía marítima paralela al Canal de Panamá que conectaría el Atlántico con el Pacífico a través del Lago de Nicaragua- había fortalecido la oposición de la sociedad civil en este país.
En la semana anterior a la visita hubo varios incendios en la enorme reserva natural Indio Maíz en la frontera con Costa Rica que destruyeron una gran parte de esta zona protegida. Ya en este punto empezó a formarse un movimiento de protesta que sugería como causa de la catástrofe ecológica incendios provocados por el mismo gobierno para abrir la zona protegida a proyectos de construcción e infraestructura.
La protesta es una expresión de un movimiento social organizado autónomamente, de "autoconvocados" - como así se autodenominan – sin una afiliación política. Esta se dirige no solamente contra reformas al sistema de seguridad social ya anunciadas sino que se suma a la resistencia contra la corrupción y la destrucción de los ecosistemas por parte del estado. Adicionalmente, la protesta busca cambios políticos: su objetivo es la dimisión de la pareja presidencial. Las protestas también se dirigen contra el partido del gobierno FSLM (Frente Sandinista de Liberación Nacional).
Desde el 20 de abril de 2018 la UPOLI, donde está establecido el Instituto Martin-Luther-King, se convirtió en el centro de la resistencia civil y estudiantil. Estudiantes, docentes y manifestantes civiles mantuvieron a la UPOLI contra las tropas del gobierno que estaban compuestas por la Policía Nacional, la fuerza "antimotines" y "turbas Orteguistas" así como por la "juventud Sandinista". La protesta pacífica en la UPOLI fue reprimida de forma violenta – como anteriormente en otras grandes universidades de Managua. Primaban una censura general y restricciones masivas a la libertad de prensa que sin embargo pudieron ser evitadas por la comunicación del movimiento de protesta a través de redes sociales.
Desde el 23 de abril de 2018 empezó a disminuir la violencia lentamente. Hasta ese momento había probablemente unos 60 muertos (varios de estos en la UPOLI). En total hasta el 21 de abril había reportados alrededor de 90 heridos y entre 90 y 100 desaparecidos, es decir, personas cuyo paradero es desconocido. Han sido detenidas o asesinadas. El número real de heridos no se conoce ya que los 90 mencionados son únicamente los que la Cruz Roja logró registrar. El número actual de desaparecidos, detenidos y heridos sigue siendo desconocido.
A continuación se presenta un reporte del Dr. Hartmut Quehl, quien vivió los hechos como testigo presencial entre el 18 y el 22 de abril de 2018. Todas las fotos sin referencia a la fuente han sido tomadas por el Dr. Hartmut Quehl, las fotos de David Arias están marcadas con su firma y las de otros participantes de la protesta se han dejado como fuentes anónimas. Adicionalmente han sido utilizadas caricaturas y fotos de los dos diarios nicaragüenses El Nuevo Diario y La Prensa.
---